Enhancing Donor Experience: Streamlining Payment Updates
Project Description
Introduction: The Voice of the Donor was heard. Donors often faced frustration when attempting to update their credit card information due to changing expiration dates or new card numbers. This led to missed donations, resulting in increased calls and emails to our call center. My team and I were brought in to address this issue and improve the donor experience.
Problem Statement: Upon conducting a comprehensive UX audit of the payment update process, I discovered that the path to success was convoluted and confusing. Initially perceived as a call center problem, it was evident that the root cause of the issue resided within the website's user experience.
Solution: To address this problem and reduce the burden on the call center, I proposed a straightforward solution that the development team could implement promptly. This solution aimed to streamline the payment update process and enhance the overall user experience.
Implementation and Impact: After the initial implementation of our solution, we closely monitored the results. The following graph illustrates the number of calls and complaints before and after the changes were made: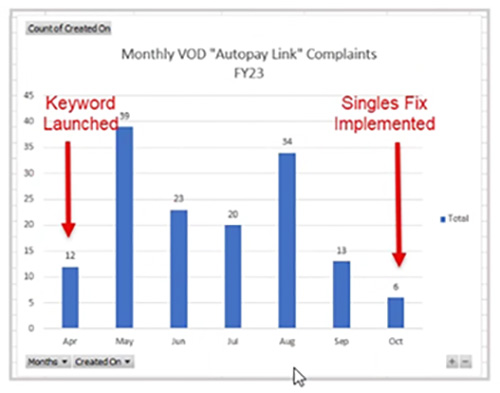 As depicted in the graph, our solution resulted in a significant reduction in calls and complaints related to payment method updates. This not only improved the user experience but also had a direct positive impact on the call center's workload.
Second Iteration: Building on our initial success, we recognized that further improvements could be made. During our second interaction with the project, we decided to revamp the entire payment update process. This comprehensive redesign eliminated calls related to payment method issues almost entirely.
Conclusion: This project showcases my ability to identify critical user experience issues, propose effective solutions, and deliver tangible results. By addressing the pain points donors faced and aligning them with the organization's business goals of reducing call center workload, I demonstrated my commitment to advocating for the user while using intelligent solutions to achieve business objectives.
Key Achievements:
Streamlined the payment update process
Drastically reduced calls and complaints related to payment updates
Improved donor experience
Aligned user needs with business goals
Photo by Christin Hume on Unsplash
What we did
UX Audit and UX Design
Client
Donor Contact Services